The Solomon Islands is one of the original birthplaces of 'fancy coral' strains and it was the first country in the world to mariculture corals in the ocean. It's no coincidence that the Solomon Islands is one of the promised lands of coral reef diversity being one of the corners of the famous Coral Triangle and after years of hard work and development, Unique Corals is finally beginning to receive a small but consistent supply of corals from this region. 
We've talked a lot about the Solomon Islands over the years since it is where we first saw Australogyra branching moon coral in the wild, it's where we rediscovered the infamous Purple Monster Acro, but if there's one coral that is a signature of Solomon Island coral reefs it's the beloved Acropora millepora. We've all seen our fair share of various Milli Acro strains in the aquarium hobby but just as we've experienced a torrent of multicolored Acropora tenuis over the last year, successive shipments of Solomon Island reef life to Unique Corals are revealing a whole new depth to the varieties of Millies from this part of the world.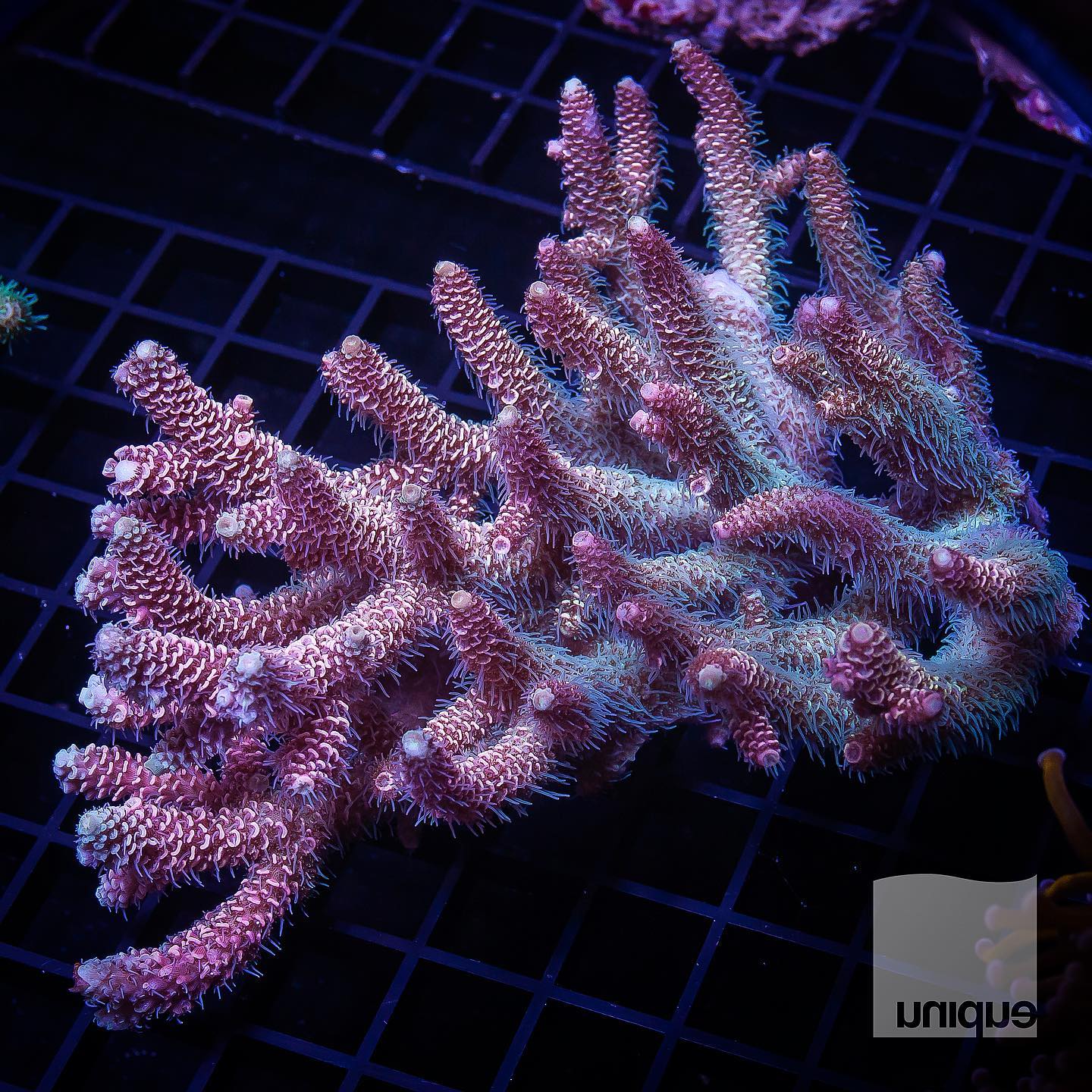 You may already be familiar with pink or green A. millepora, sometimes with yellow or blue tips, but there's so many dimension to the varieties of Millies from the Solomon Islands that we are now becoming increasingly aware of. Recent shipments of Millies from the Solomons are uncovering millies in various shades of red, orange, salmon, gold and even yellow, with gradients of colors changing with the lengths of the branches and capped off with colorful axial growth tips and elevated by the shaggiest multicolored polyps of any Acropora species. 
If you're used to seeing 'Magazine Cover' photos of corals you may not be able to appreciate the honest and authentic images of these fresh wild Milli Acros coming out of Unique Corals but we see a whole universe of potential in these daylight photos. Milli Acros are the kind of SPS coral that has the chromatic pigments to shine under daylight spectrum as well as the fluorescent pigments to glow under deep blue lighting so their appearance literally transforms like a chameleon under modern LED lights with controllable spectrum and intensity.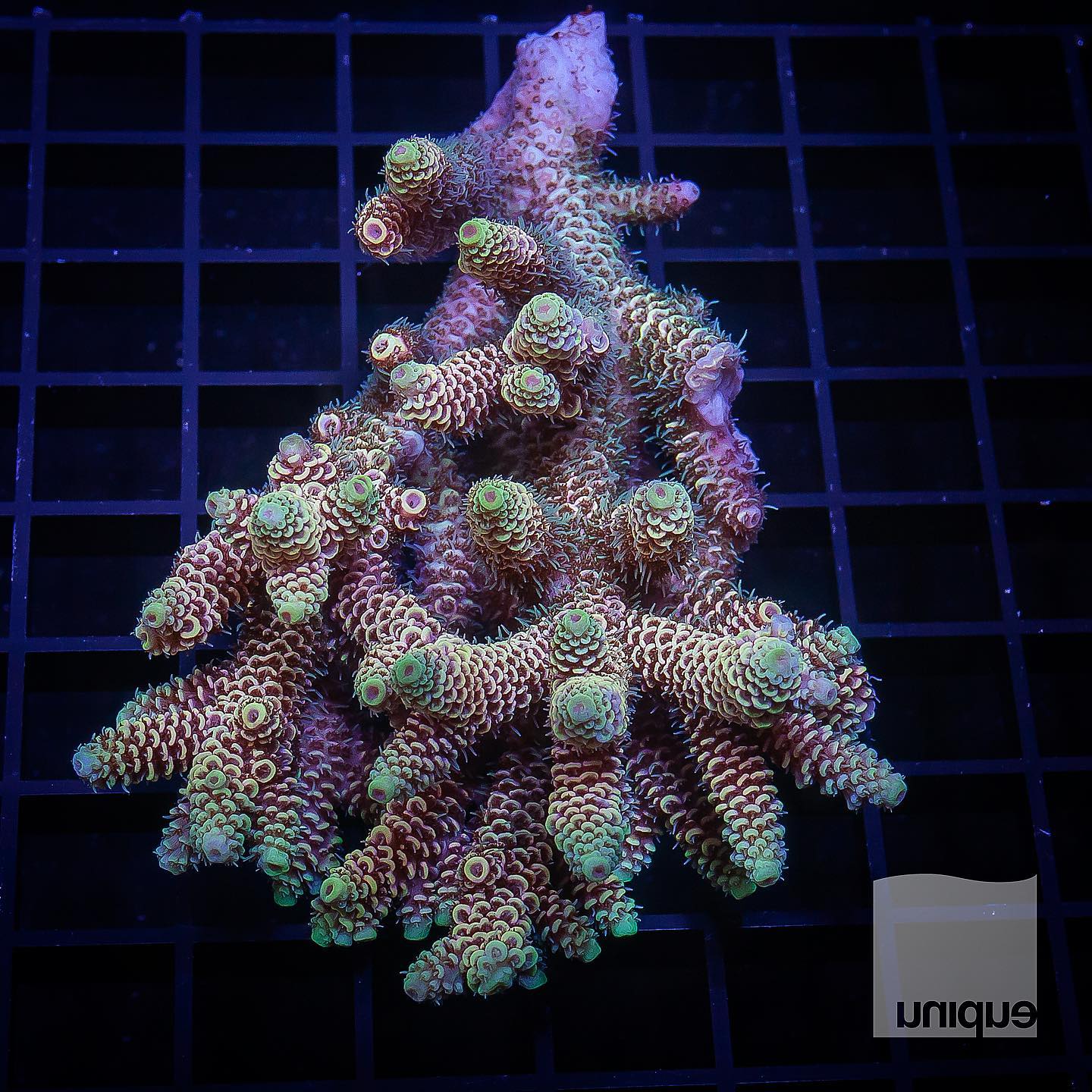 These three photos of many stickheads' favorite Acro are just a tiny sampling of the colonies that have been coming into Unique Corals with many of the premium plus corals having already starting to get distributed to connoisseur coral dealers around the country so what you see here is just the tip of the iceberg. The Unique Corals Solomon Islands team on the ground has been perfecting their collection and shipping techniques from this underdeveloped part of the world and they've been trickling out cautious numbers of this highly diverse species of staghorn coral. 
Pretty much every color of the rainbow is possible with Acropora millepora and it's one thing to get maricultured specimens of which the coral farmers are rarely working with more than one or two dozen strains, but it's another to get fresh colonies with unique bloodlines because we simply never know what we're going to get, or how the corals will morph and transform under aquarium conditions. With so much uncertainty looming over Indonesian corals, Australian corals, or even Hawaiian fish, it's incredibly exciting to see exports ramping back up in the Solomon Islands not only for our ornamental enjoyment, but also for injecting much needed income into coastal reef communities where the income can do some serious good for both the people and the environment. 
Definitely keep an eye out for 'Solomon Island' corals on the Unique Corals website because when you purchase these corals you are not only getting truly unique corals, but you're also directly helping local communities in this west Pacific nation by adding value to their natural resources. As you can probably already tell we couldn't be any more excited about what the corals of the Solomon Islands have to offer the reef aquarium hobby so you can be sure we'll be keeping a close eye on the frags and colonies coming into Unique Corals over the next weeks and months.